The International Islamic Trade Finance Corporation (ITFC) (www.ITFC-IDB.org), member of the Islamic Development Bank Group (IsDB), concluded the Business Forum of the Agadir Agreement and the West African OIC Member Countries, held in Casablanca, Kingdom of Morocco, on 10-11 May 2018.
The forum aims to promote, foster and enhance trade and investment flows between participating Arab and African countries under the Arab Africa Trade Bridges (AATB) Program. The sessions of the forum explored numerous key topics including enhancing the legal framework of trade and investments between Agadir Agreement countries and West African countries, as well as improve the incentives for the private sector and the financial instruments for foreign trade. The event included a dedicated session to explore ways to develop trade and investment between the State of Palestine and the West African Countries.
During the forum, ITFC signed a Memorandum of Understanding with the Banque Centrale Populaire (BCP) (www.GBP.ma), a major financial player in Africa, to extend further its successful partnership with this Bank. This is the second agreement signed between the two parties, upon the successful implementation of the first agreement signed in June 2017 with BCP's Cote d'Ivoire based banking subsidiary, ABI (Banque Atlantique), with the total amount of EUR40 Million financing.
'Organizing this important forum comes in line with our core mandate to develop and advance intra-OIC trade. ITFC will continue to support member countries' businesses to have better access to trade finance instruments, as a tool to stimulate growth, create job opportunities and reduce poverty, said Eng. Hani Salem Sonbol, CEO ITFC.
The closing session of the Business Forum had adopted number of recommendations aiming at boosting trade flows between the Agadir Agreement countries and the West African OIC member countries, including the proposal to establish business council between the mentioned countries.
It is worth mentioning that the 'Arab Africa Trade Bridges (AATB) Program is a 3-year regional trade promotion program that has been designed with the ultimate objective of leveraging new trade partnerships, strengthening existing ones, and increasing trade flows between the Arab and African regions. In addition, the program shall enhance trade and investment across the two regions through cooperation among trade and investment support institutions.
Distributed by APO Group on behalf of International Islamic Trade Finance Corporation (ITFC).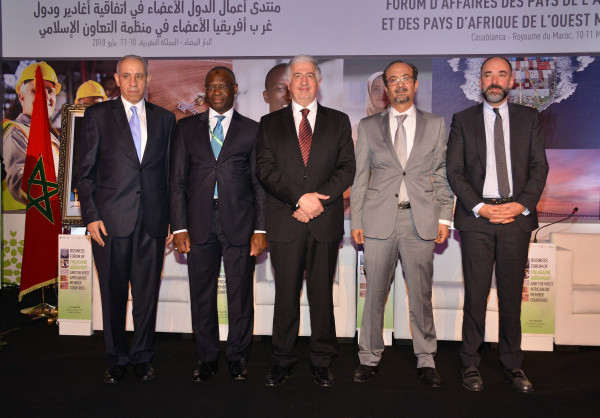 International Islamic Trade Finance Corporation (ITFC) continues the successful implementation of AATB Program by connecting business communities in Agadir Agreement countries and West Africa
About the International Islamic Trade and Finance Corporation (ITFC):
The International Islamic Trade Finance Corporation (ITFC) (www.ITFC-IDB.org) is a member of the Islamic Development Bank (IsDB) Group. It was established with the purpose of advancing trade among OIC member countries, which would ultimately contribute to the overarching goal of improving socioeconomic conditions of the people across the world. Commenced operations in January 2008 (Muharram 1429H), ITFC has since consolidated all trade finance businesses that used to be handled by various windows within the IsDB Group. Earning the A1 rating by Moody's reflects the Corporation's efficiency in service delivery by responding swiftly to customer needs in a market-driven business environment.
Since 2008, ITFC has provided more than US$40.25 billion of trade financing to OIC Member Countries, making the Corporation the leading provider of trade solutions for OIC Member Countries' needs. With a mission of being a catalyst for trade development among OIC Member Countries and beyond, the Corporation helps entities in Member Countries gain better access to trade finance and provides them with the necessary trade-related capacity-building tools, which enables them to successfully compete in the global market.
Follow ITFC on Twitter & facebook: @itfccorp
Follow AATB Program on Twitter & facebook: @aatb_program
This Article is Originally published by menafn.com